Borofloat 33 wafer
Product Description
Hobbite® Wafer (Borofloat 33 wafer)
Hobbite can be provide to Schott Borofloat 33 and Pyrex 7740 Wafer \D263T Wafer \ Borosilicate Wafer \AF32 Wafer \ B270 Wafer\ Quartz Wafer \Silicon Wafer
Our Borofloat 33 windows are great for anondic bonding. We also have 50 micron thin available.Our Schott Borofloat 33 wafers have excellent mirror-like surface, a high degree of flatness and an outstanding optical quality. Excellent light transmission and its very weak fluorescence intensities over the entire light spectrum make BOROFLOAT® 33 ideal for a wide range of applications in optics, optoelectronics, photonics and analytical equipment.
Capabilities depend on material and substrate size , actual capabilities for specific wafer available upon request .
| | |
| --- | --- |
| Attribute | Measurements |
| Diameter | Φ2″、Φ3″、Φ4″、Φ5″、Φ6″、Φ8″、Φ12″ |
| Thickness | 0.2mm、0.3mm、0.4mm、0.5mm、0.7mm、1.0mm、1.5mm tolerance±0.02mm) |
| Dimensional Tolerance | +/- 0.02 |
| Thickness Tolerance | +/- 5μm |
| Thickness Variation (TTV) | < 0.01mm |
| Flatness | 1/10 Wave/Inch |
| Surface Roughness (RMS) | <1.5nm |
| Scratch and Dig | 5/2 |
| Particle Size | <5μm |
| Bow/Warp | <10μm |
The following describes the versatility within several of our key processes. For full details on the process, please contact us freely get more information.
WAFER FABRICATION PROCESS
Shape Cut
Thin sheets are scribed, thick sheets are water jetted and blocks are wire sawn to begin the process with a wafer "blank".
CNC Edge
Each wafer is individually edged on a Precision CNC Edge Grinding Station.
Lapping
As required, wafers are lapped to precise thickness or flatness.
Polishing
Double-side Commercial Polish removes subsurface damage and Super Polish creates a pristine finish.
Cleaning
We combine ultrasonics and megasonics on multiple cleaning lines which feed directly into a Class 100 Clean Room.
Inspection
In our Class 100 Optical Clean Room, we inspect to various quality levels under the appropriate lighting conditions.
Packaging
Hobbite All wafers are packed in pre-cleaned containers, double bagged and vacuum sealed within the Class 100 Clean Room.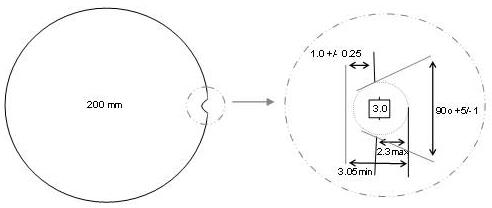 WAFER SPECIFICATIONS
Hobbite produces wafers to all SEMI Standards including dimensional, flat and notch specifications. In addition, we offer custom specifications designed to your unique needs including, alignment marks, holes, pockets, edge profile, thickness, flatness, surface quality, cleanliness or any other details critical to your application. Hobbite also offer these wafers in a broad array of materials including Borosilicate, Aluminosilicate, Fused Silica (instead of quartz), Quartz and Soda Lime.
Customize
You can customize this product to your needs. If you do not find suitable specifications for your application please contact us for custom solution. To order or request information please fill in the form (sales@hobbite.net):
"innovation
is a constant state of mind at hobbite."